Sustainable Materials
Together with our partners, Vanderbilt is advancing sustainable materials to build your home, power your business, and strengthen your community. Learn more about our highly functional, sustainable, multifunctional building materials as well as our innovative methods for producing low-waste, high-power green energy.
Cost-Effective, Environmentally Sustainable Infrastructure Materials
Nashville continues to boom with new buildings going up every day, but building materials are scarce and must be transported over large distances increasing the carbon footprint of construction. What if the materials can be sourced locally from your trash? Every year, the U.S. wastes about ~7.6 million tons of glass, but an undergraduate team led by Vanderbilt faculty member Ravindra Duddu is focusing on making concrete bricks that incorporate crushed glass sourced from used bottles (Fig. 1), an approach that can both enhance sustainability, lead to a circular economy, reduce concrete's carbon footprint, and potentially circumvent supply chain shortages. The team is collaborating with faculty at the Center for Sustainable Infrastructure, University of Alabama, Tuscaloosa, and received seed funding from a local Nashville company named Good Molecules, LLC.

Meanwhile, Vanderbilt faculty member Florence Sanchez is busy testing the durability, resilience, and sustainability of new compositions of concrete, including 3D-printed concrete and concrete that incorporates carbon nanofibers/nanotubes and other nanomaterials. Take for example the $6.7M international collaboration spanning eight countries funded by the Hong Kong Research Grants Council that Sanchez co-led, which focused on concrete made from seawater, sea sand, and fiber-reinforced polymer composites. Clearly, the composition of concrete is not as concrete as it seems!

Continuing the theme of sustainable materials, Vanderbilt faculty member Doug Adams, graduate student Christopher Nash, the Laboratory for Systems Integrity and Reliability (LASIR) research staff, the National Renewable Energy Laboratory, and industry partner Arkema have co-developed a recyclable composite resin for wind turbine blades called Elium. Unlike traditional resins used to make wind turbines, which ironically require a lot of energy to produce and are difficult to recycle, Elium generates its own heat during the curing process and can be easily recycled. In this way, Elium reduces manufacturing costs and life-cycle energy use in addition to improving turbine reliability (Fig. 3). Even more exciting, Elium is just one of a few dozen successful industry collaborations between LASIR and original equipment manufacturer companies, particularly in the automotive manufacturing space.  Other notable projects have advanced noise, vibration, and harshness solutions for everything from the powertrain, over suspension, to chassis and body.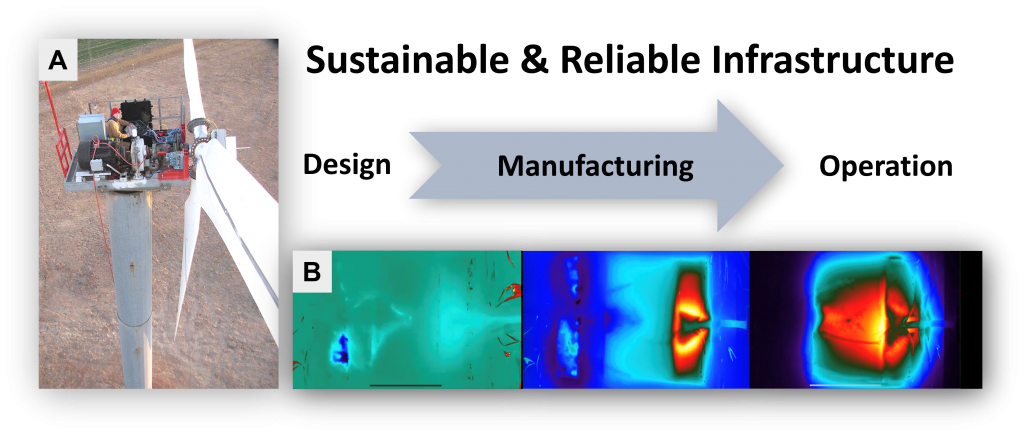 Learn more about Vanderbilt faculty Ravindra Duddu, Doug Adams, and Florence Sanchez.
Going Bigger and Bolder with Low-Carbon Energy
Water is the only waste produced by fuel cell cars, making them great for the environment. However, they are usually costly and cannot operate for the same duration as conventional automotive combustion engines. Luckily, Vanderbilt faculty member Peter Pintauro has developed nanofiber electrodes to boost the power output of fuel cells by 30 percent at a lower cost and with better long-term durability. A $3.1M Department of Energy project is combining Pintauro's nanofiber electrodes with Los Alamos National Lab's testing facilities to develop game-changing automotive fuel cells that could make fuel cell cars the favorite of speed demons as well as environmentalists.
Vanderbilt is pioneering ways to enhance the power of other green energy sources as well, such as nuclear power technology. The molten chloride fast reactor (MCFR) under development by Southern Company Services, TerraPower, Vanderbilt University, Oak Ridge National Laboratory, and the Electric Power Research Institute may prove to be a game-changer for safe, low-carbon energy (Fig. 4). Faculty member Steven Krahn is the lead Vanderbilt researcher on this $40M Department of Energy project to develop MCFRs that may provide enhanced operational performance, safety and economic value when compared with current reactor concepts. The team is in the final stages of the design phase and expects to begin testing in a $20M integrated effects test facility starting in 2022.

Want more bang for your buck when it comes to solar energy? Vanderbilt faculty Janet Macdonald has you covered in more ways than one, having recently patented new electrodes for use in solar cells based on her research in semiconductor hybrid nanoparticles for solar energy applications. Macdonald's innovation could replace inefficient, rare, and expensive materials such as platinum, saving both time and money to produce solar energy more efficiently.
Fuel cells, nuclear reactors, solar cells – what else can Vanderbilt do? How about fueling the future with algae! Discovering new renewable fuel sources to replace petrochemicals could shift the fuel market paradigm — that is if you could also figure out how to produce yields scalable for mass distribution. Vanderbilt faculty member Jamey Young is attempting to do just that by leveraging research on algae to engineer metabolic pathways to produce renewable fuels at scale.
Learn more about Vanderbilt faculty Peter Pintauro, Steven Krahn, Janet Macdonald, and Jamey Young.